Crap…. it's football season.
Crap…. it's football season.
I really shouldn't have to feel this way, right? I have always loved watching Aggie football.
Paraphrased from a friend: What normally takes us getting to November and hitting a wall only took one game.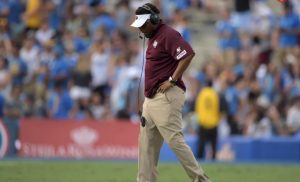 The Ags blew a rout of UCLA and lost their opening game. In the process they lost the excitement of many of us Aggie former students. I'm afraid my optimism has run out, folks. I'm done with making excuses for Sumlin. We (Aggies) have some great and talented players and they did play their hearts out last night. The coaching sucked. No other explanation. And I'm not talking about just the play calling of that particular game. I'm talking about ALL aspects of coaching. It begins with the head dude and it is all about Ms. Aretha's song title: RESPECT. I think Summy has let his respect level fall – no wait a minute, he's allowed it to leave. He allows jackass antics to go on at the sideline, he has been a disaster at recruiting and maintaining key roles in the program. All I can say is that he's a cagey, cocky coach that should have been gone last year. In over his head… yeah, probably. He's smart at some things, and likely not too worried about being fired, and that was obvious last night and in the preceding days, weeks, hell, even going back a couple of years.
I've never been one to advocate "FIRE THE COACH" until now. Summy gotta go!
The culture begins at the top.
What's the answer? Who should we bring in as head coach? Honestly, I have no clue. I just know there is a big problem in the bus driver position. I'm still trying to get over that hype to nausea roller coaster ride I was on last night. I either need a good old Chicken Oil Company death burger or some Rolaids – I can't decide which.
Enough about sports.